---

Another symbol which has come to be associated with peace is the ankh or ansate cross. This is an ancient symbol which was widespread through Asia but generally associated with Egypt, where the cross represented life and the circle eternity, providing a symbol of immortality. It also represented the union of the important gods Osiris and Isis, linking heaven and earth and initiating the life-giving annual flood of the Nile.
In the late 1960's the symbol was adopted by the 'flower power' generation as a symbol of peace and truth.


---

Like the ankh, the rainbow has come to be seen by many as a symbol of peace. It has been widely used in the past few decades by popular movements for peace and the environment.
Greek mythology associated the rainbow with Iris, the goddess who brought messages from the gods of Mount Olympus to the mortals below.
In ancient China the colours symbolise the union of yin and yang (making it a common symbol for marriage). It was often drawn as a symbol of the sky dragon, connecting heaven and earth.
The Incas of central America associated it with their sun god.
In Norse mythology it was a bridge built by the gods between earth and their home in Asgard.
In Christian tradition it symbolised God's forgiveness, as it was placed in the sky as the arch of peace after the Biblical flood - a symbol of the covenant between God and mankind.
Thus in a great many cultures the rainbow stands as a symbol of people's hope for a better world - in the sunshine after rain.
---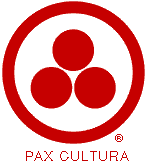 The Banner of Peace symbol is being promoted as a universal symbol of peace. The central three circles are taken to represent either past, present and future surrounded by eternity, or religion, science and art encircled by culture. The motif has been found in many cultures around the world over thousands of years. Part of its appeal is that it is owned by no one group or tradition.


Back to the Index